Property owners, facility managers, and building management need up-to-date localized weather forecasting and onsite weather reporting to optimize comfort, safety and efficiency in commercial and industrial buildings.
Supervising the safety of others is a top priority for Brooks Reinhart, a facilities manager from Pennsylvania. Tracking weather through the seasons can help prevent dangerous situations, such as slips, falls, and icy conditions and prevent property damage.
KestrelMet 6000 Weather Station for Facilities Management
As employers and facility managers look for ways to save energy, increase efficiency, and plan for inclement weather events, they're now looking beyond the walls of their building - taking microclimate measurements outside in order to take their operations up a notch.
"Without reliable and accurate weather insights, facility managers will struggle to increase efficiency, cost savings and uptime. The environment outside has a significant impact on what's happening inside a building, which is why facility management executives are focusing on microclimate measurements outside their facility to optimize facility operations and energy efficiency."
-Facility Executive Magazine
Weather Monitoring for Commercial Buildings and Properties
With the KestrelMet 6000 weather station, facilities managers can maximize the value of advanced weather data to minimize financial loss, and protect employees and property.
Not only is the weather a safety consideration on the ground, but Reinhart must consider the state of the building as well. For example, high winds can cause roof damage to the building's exterior. This damage can lead to interior damage from leaks. In the worst-case situation, roof damage can cause mold growth, leading to another serious safety issue.
That's why Brooks Reinhart relies on the KestrelMet 6000 Cellular Weather Station as one of the most important tools for doing his job.
KestrelMet 6000 Measurements:
Wind speed
Wind direction
Rainfall
Barometric pressure
Relative humidity
Temperature
Choose from cellular or Wi-Fi connectivity and multiple mounting options to build the ideal weather station for your needs. Unlike other professional-grade weather stations that require a gateway device or added cost to view data online, the KestrelMet sends data to the cloud where you have easy online access. Learn more about Kestrelmet weather station options.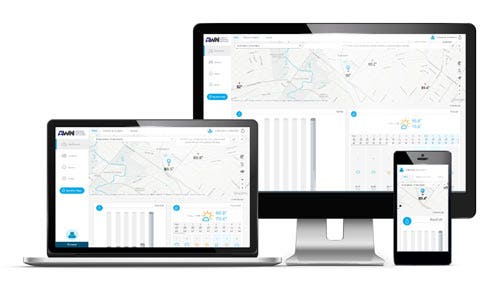 Compatible with the Ambient Weather Network (AWN) online portal and app for daily monitoring and data management. With reliable, site-specific weather data available on your mobile device or desktop -- you're empowered to make the right decision when weather threatens to impact your passion or profession.
Access your KestrelMet station data from the Ambient Weather Network cloud online or on your mobile device with the AWN app.
Investing in the KestrelMet 6000 Weather Station is a wise decision for many property owners and building managers across industries. This data can help determine if dangerous weather poses a threat, such as severe thunderstorms that may impact electricity and other operations. Temperature and humidity can help determine if potentially hazardous situations can occur inside the factory, such as heat stress. For indoor environmental monitoring solutions specific to heat stress, read more about the Kestrel Heat Stress Monitoring System here.
Easy Set Up & Quick Installation
The KestrelMet 6000 Weather Station is a rugged, reliable, all-in-one weather monitoring solution for property and facility managers. The KestrelMet 6000 is easy to set up and install.
"It's only one trip up the ladder to install the KestrelMet 6000," said Reinhart, who oversees several buildings as part of day-to-day operations. That one single trip up the ladder is important factor taking into account his own safety and time spent. When you're installing the KestrelMet on a roof or another location high off the ground, you want to be quick and efficient.
Most weather stations come with a lot of individual components to attach and parts to assemble. Installing the weather station correctly to ensure that the unit functions properly can prove to be complicated. Not so with the KestrelMet 6000. The KestrelMet was designed with the customer in mind to deliver a fast, frustration-free set up experience. It arrives pre-assembled and includes the tools you need for set up (along with a spare screw in case you drop the first one). Out of the box, you can have your KestrelMet mounted and measuring onsite weather conditions in 20 minutes or less.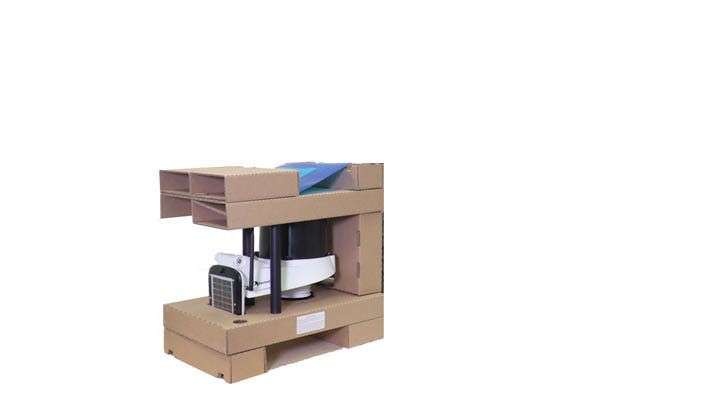 The KestrelMet 6000 arrives pre-configured for a quick and easy set up experience
For Reinhart, one of the most compelling features of the KestrelMet 6000 is its reliable cellular connectivity. But weather events and location can impact Wi-Fi reception and prevent you from accessing the information you need maintain safety for employees and the property. For remote areas or installation locations where Wi-Fi reception is not a dependable option, the KestrelMet cellular station is the ideal solution.
"I can't depend on spotty Wi-Fi," says Reinhart. "I need to be able to get to my phone and view that information." The Ambient Weather Network (AWN) app allows him to do just that. He's able to access current onsite weather conditions and receive custom alerts on his phone – even when he's offsite. If the KestrelMet 6000 reports threatening weather conditions from the factory, Reinhart will be notified immediately and can take action.Once he makes it to the facility, he can take precautions or assign tasks as needed.
For many other commercial property locations, the KestrelMet 6000 Wi-Fi weather station is a popular choice. Simply connect the station to your wireless network, then access your data along with forecasts, charts, and more on a mobile device. Wireless transmission up to 1000 ft.
Keep Workers Safe and Minimize the Impact of Severe Weather
No matter what kind of factory you operate, facility you manage, or where you are in the world — understanding the weather is essential for operational and employee safety. Whether you are facing high winds, heavy rainfall, scroching heat, or freezing temperatures the KestrelMet 6000 provides actionable insights based on accurate and reliable weather information.